My Sister, Nicole Vienneau, Has Gone Missing in Syria - Updates from March 2nd to 31st
March 31st (Evening):
It's been exactly one year since Nicole disappeared, but really, it's just like each of 300+ other early days that she wasn't at home with us. I had a small twinge of loss above and beyond the usual while falling asleep around 12:30 this morning - given the 7 hour time difference, it was almost exactly when Nicole was last seen.
In preparation for Mom's return to Syria at the end of the week, I've been reviewing the entire blog right from April 22nd onwards in an attempt to find any loose ends that we can follow up on. If anyone has any theories or ideas that they wish to share, or that they've shared but may have been forgotten by us or set aside amidst other things, now is the time to email. As usual, I can't respond to all of them, but everything will be read.
I suspect I'm still in denial in some ways. It struck me again today how odd it will be describing the past year to my future children. Perhaps telling them of an aunt they never knew who just "disappeared", despite all the advances of modern civilization. It just doesn't feel real sometimes.
March 29nd (Noon):
Once again, I've run out of things to say. I am halfway tempted to end the blog after this week, if only because it feels increasingly futile. On the other hand, I'm still reaching a few new people and getting updated with ideas and assistance. For example, the publisher of The Arab magazine has offered to put an ad in their next issue appealing for information, which is greatly appreciated.
As reported last week, my mother will be heading off to Syria within a week and Gary will be arriving about a week later. They plan on meeting with officials for the first week, and then visiting Palmyra for a few days after that to see if there are any clues or leads that can be followed. Gary will also be returning to Hama to re-connect with the people there and see if anything new has happened since he was last there.
Monday will mark one year since Nicole disappeared. I may write another blog entry then, depending on how I feel. We scuppered the plans to write the Prime Minister this past week because we don't want to rock the boat too much before heading to Syria looking for cooperation from authorities. Increased Canadian media attention helps me feel like I'm doing something, but I suspect the real work needs to be done in Syria. If you have contacts in the Syrian media who might be interested in mom's visit, let me know.
In preparation for mom's trip, I'm going to try and put together an information package this weekend that outlines what facts we have and who we have spoken to or found. This package can hopefully be translated, copied, and passed out to the various police agencies and politicans that mom and Gary meet with. Unfortunately, it's not work that is inspiring me - I've definitely been doing this too long.
March 22nd (Afternoon):
My mother and Gary are returning to Syria!
After many months of agonizing over when to go, and wanting to make sure it would help and that people would be there and willing to meet with us, it has finally been arranged. Within a few weeks, Gary and my mother will return and I will stay here to watch over things and coordinate anything that needs doing in Canada.
Gary will be flying to Syria for free, courtesy of Etihad Airlines, the national airline of the United Arab Emirates. Etihad contacted us last June and generously offered the free flight and we're very grateful for their assistance.
Next Monday will be one year to the day since Nicole disappeared. We are pondering doubling the reward, as was reported in the press a few weeks ago. With my mother preparing to leave for Syria, I'm not sure that will be arranged officially via the trust in time, but quite frankly, if someone should suddenly come up with Nicole in the next few weeks and want a reward premium, I'd reach in my pockets and pay them - mortgage payments can wait.
We're also thinking of writing a letter to Stephen Harper, the Prime Minister, asking for his assistance, possibly by contacting the Syrian government personally. He recently did just that by calling the president of Mexico on behalf of Brenda Martin, who is in prison there. I suspect this is exactly why politicians do *not* get involved like this - once you help one distraught family, all the others expect the same. If only Nicole were in prison - then maybe we'd get MPs and former Prime Ministers visiting Syria and helping us out?
Speaking of news articles, my heart goes out to the family of 18-year old Nadia Kajouji who went missing in the Ottawa area on March 9th. It seems all too familiar to read the brother's unhappiness with how the police are handling the situation, in particular the "they'll return to the search after the holiday weekend". According to what I've read, they're offering $50,000 in reward money, their Facebook group has 10,000 people, and there was a rally at Carleton yesterday. That's some impressive organizing and results for two weeks - we have never had more than 1,000 people in our combined Facebook groups after being on the front page of most national newspapers, though we did have some very successfull fundraisers. After seeing the results attained by other high profile missing person searches, I wonder if I could have handled this search differently or better? On the other hand, I have yet to read about a search that is successfull - a grim statistic.
An idea was sent in by an American reader regarding finding funds to raise the reward and continue to travel to Syria and so on. She suggested that I compile a selection of blog entries, add in some comments and book-ending articles, and sell them in book format with all the proceeds going to the search. I've heard that book publishing is not usually a profitable venture. Does anyone have experience in this area? Any contacts that might help?
A reader posted our reward to the a href="http://internationalrewardscentre.com/index.php?option=com_content&task=view&id=1096&Itemid=207">International Rewards Centre. This is much appreciated, especially the extra effort involved to enter in all the details.
And finally a small bit of good news: a few weeks ago I talked about some of our grimly amusing discussions with CIBC and the $10 maintenance fee they were charging on Nicole's inactive bank accounts. I'm happy to report that CIBC has contacted us and waived the $10 fee not only for this year, but also for the next four years. As we continue to face bureaucratic difficulties in maintaining Nicole's insurance and filing her taxes and so on, it's great to have one less thing to worry about.
March 15th (Noon):
A year ago today, I saw my sister for the last time.
The image is burned into my mind - getting one last glimpse of her across a crowded plaza in Aqaba, Jordan as she rushed to catch the bus to Amman while my girlfriend and I negotiated a cab to the ferry back to Egypt. Much like the last time we travelled, there was no time for long and tearful goodbyes because the bus wouldn't wait and both Nicole and I are practical people when it comes to travelling - just quick hugs and a farewell. I'm not sure why I took that last look - probably because I wanted to make sure she got on the bus and wouldn't be stuck there for another few hours.
When we arrived in Cairo three weeks earlier, Nicole was at the airport to meet us having just arrived from rural West Africa the previous day. We were very excited to see each other and happily chatted away while riding public transit back to the hostel Nicole had picked out. The next few weeks were jammed full of adventures, but I think the moment we were all the happiest had nothing to do with great monuments or ancient hieroglyphs, it was while taking a donkey cart taxi to the Siwa Oasis with a very enthusiastic young driver and his cell phone. We were all laughing and having the best of times as we bounced down the dirt road together.
The last three days of our trip were spent in Jordan and they were fantastic - the perfect way to end our vist. Arriving at night, our first day visiting Petra blew everyone away and Nicole was taking great pains to find the perfect lighting for her photos as I bounded through the rocks exploring the caves and ruins. That night we all watched "Indiana Jones and the Last Crusade" back at the hostel (it has a brief scene of Petra in it) and marvelled that it had been 18 years since it had been made, and weren't we all getting old? We returned for more and on the second day entered Petra through a narrow gorge that very few tourists ever discover. As we climbed over rocks and tried to figure out way to get through narrow openings blocked by flash flood debris, we couldn't stop congratulating ourselves on this "hidden" find. Nicole was especially appreciative that she had us with her, as otherwise she would have had to ahve skipped it - it wouldn't be safe for her to wander into a remote canyon by herself.
Our third day in Jordan was spent at Wadi Rum, a desert valley filled with beautiful rock formations and the occasional sand dune. We planned on spending the day touring the area and the night at a Bedouin camp. After 20+ days in the Middle East, my girlfriend and I had still not ridden a camel so we insisted on a quick camel ride beforehand. Nicole, ever budget conscious, already had camel experience from earlier in Morocco and wanted to sit it out but I insisted on paying for her - a scenario we had played out on previous trips because it's just not the same without her. It was a great investment as after we rode through town without anyone batting an eye, the camels took us wherever they felt like going - generally to shrubs and other food. There was much laughter and eye rolling as we tried to convince our guides to take pictures with both us AND the camel in them - they didn't seem to understand why we would want a picture of a camel and not just the pretty girl on top of it?
From there it was into a pick-up truck and heading out into the desert to explore gorges and see the brilliant colours. We spent half an hour climbing up a sand dune and just a few minutes bounding back down with great glee (a high point in my life - everyone should try it). The truck suffered a flat tire and we didn't have a jack, so Nicole and my girlfriend sat in the shade of nearby rocks sipping drinks while the "men-folk" jury-rigged a method of holding the truck up while the tire was changed. As we did this, some shepherds and their herd of goats wandered by. It was idyllic and exactly why Nicole and I love travelling.
My fear of unprotected heights became readily apparent when we were at the Monastery, a high point in Petra where Nicole would happily perch on ledge for photos while I nervously kept asking her to step back a bit. This fear returned at the famed Wadi Rum Rock Bridge (it's higher than it looks) where Nicole worried I'd take a good photo of her on the bridge from safely on the ground - she is a perfectionist about her photos! The number of times I had to wait while she held off on a photo until all the tourists cleared out of the way...
The end of the day saw us at the Bedouin camp, sleeping in tents piled high with carpets, eating food they prepared by burying in the sand with hot coals after watching the sunset from high on the rocks. Nicole seemed a bit distant and headed to bed early. It wasn't until months later when I read her journal that I learned she wasn't feeling well, but after being annoyed by my complaints of an ill stomach for so many weeks, she didn't want to say anything.
We were up at 6am the next morning, March 15th, to rush into town so we could catch a bus that would rush us into Aqaba so that we could catch more buses and ferries for a long day of travel. Nicole was already trying to figure out the next legs of her journey - which castles were worth seeing and which ones could be skipped, how hard was it to get to places, etc. At one point earlier in the trip, Nicole wasn't sure she'd be able to come with us to Wadi Rum (or even Jordan) because she didn't want to feel rushed or have to skip anything, or even worse, double back and cover ground a second time - she hated wasted travel. But as we parted in Aqaba, it was clear that everyone was glad she had chosen to come with us and share the experiences of Jordan.
I wish I could say I remember what we spoke of in those last few minutes before she headed off. Something momentous about much we loved one another and how our bond had strengthened as we became adults and suddenly found we could share anything and talk about everything. But the reality was that Nicole was really looking forward to coming home in two months, and we could always email if something came up. There was no need for big goodbyes or tears (though they're certainly flowing now). She was supposed to come home. It wasn't supposed to be the last time we ever spoke to one another. It wasn't supposed to turn out this way.
I want Nicole to come home.
March 8th (Afternoon):
We got a bit of media attention yesterday as Canadian Press wrote a piece on how it's almost been a year since I last saw Nicole and she went missing. They interviewed Gary and myself and made some inquiries. If you're a Globe and Mail subscriber, then it was in the front section (page 11, according to mom) yesterday, otherwise it's available here, here, and here. (Note that the article erroneously states she left her camera behind - she in fact left her memory chips behind with all her pictures, but took her camera)
As it mentions in the article, we're pondering the costs/benefits of doubling the reward. It would exceed the funds in the Trust, but only if it's actually paid out. The problem is that we need to put up a bond for the appropriate amount, just in case she's found - the Trust doesn't want to promise a reward it can't deliver on.
A contact sent some photos of the ruins and holes at the summit of Shmemnis, a ruins near the Hama area. Readers may recall back in the Fall when we had a strong rumour that Nicole was murdered there. The police investigated and reported no evidence of Nicole or anything else. I'll post the pictures for now, though I may take them off if my bandwidth is exceeded (I'm not sure they need to be on the official site):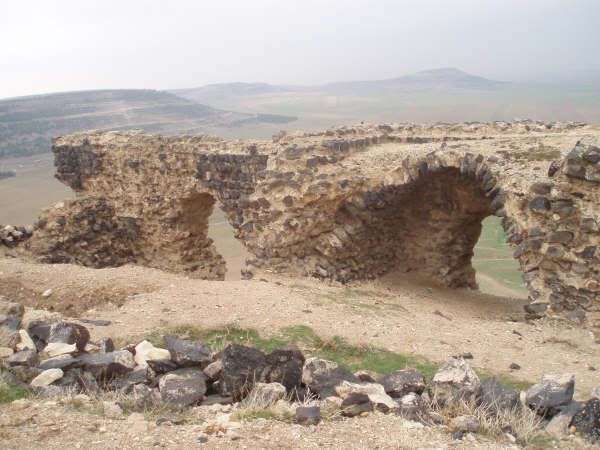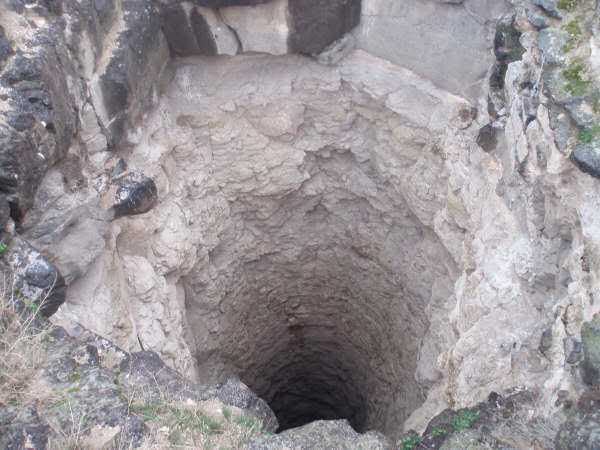 As you can (hopefully) see, there is much potential for injury. One of the appeals of travelling third world countries is that they don't protect you from yourself. There are no walls or warning signs around anything. And if you want to climb up it and take a picture, risking falling to your death, go right ahead. Nicole was definitely not afraid to climb on things for a good shot, so that was certainly a probable scenario for Gary and myself when we were in Syria looking at places like this. She wouldn't have taken pictures of holes (at least, she didn't in Egypt, though they weren't quite as deep), but as I looked at this today, I imagined some kid being foolish and pushing her while she's at the edge. There are lots of holes like this at all the ruins.
I don't feel like writing much today (the blog software crapped out on me so I had to do some of this twice already), so hopefully the pictures will make up the slack. The coming weeks are weighing heavily on me and my mother. I was fortunate enough to win tickets to an all-day event earlier this week and I brought my mom. It was good in that she forgot about things for most of the day. And it was also good in that I won a $500 gift certificate (for a woman's clothing store). Maybe I'll get lucky a third time and we'll find some clues this month?
March 2nd (Noon):
It just hit me in these past few days that exactly a year ago this week I was in Egypt with Nicole and my girlfriend. A few days in Cairo, a long trip to the Siwa Oasis with a stop in Alexandria, and then an even longer trip down to Luxor and the many ruins. Egypt was all about 8-16 bus and train rides (and these are not first-class accomodations) because that's how Nicole likes to travel - cheap and local. I suspect the next two weeks will be increasingly painful as we approach March 15th, when I left Nicole in Jordan, and then the final two weeks of March will be even tougher as the, and I hesitate to use "first" because it implies there will be more, "anniversary" of her disappearance.
One of the things that bothers my mom, and I hope she's okay with me sharing this (the family isn't quite as used to a public blog as I am), is that there was a possibility of her joining us in Egypt last year. She had done this in the past - when Nicole was travelling South America, mom flew in and joined her in the Galapagos Islands. Having Nicole in the family meant all of us went to places we wouldn't have expected, but thoroughly enjoyed. The timing for Egypt wasn't the best, so mom wasn't able to make it, and now there's a strong sense of "if only...".
The thing is, that kind of guilt is totally un-deserved. I too feel bad that during the trip to Egypt, I didn't get to spend as much "one-on-one" time with Nicole because I was with my girlfriend. The brother-sister dynamic and closeness was forced apart at times because there was a third person (and at other times it was wonderfully enhanced). My last email to Nicole, which she never received, was an apology of sorts for not making more time just for her - always sitting beside my girlfriend on these 8 hours bus rides for example. (My next email, painful in its innocence, says "Hey Nicole, mom's starting to worry, email her if you can"...)
But no guilt should be felt. There was no way of knowing that this would happen. Nicole's disappearance was completely unexpected and so rare that it's caught the entire country of Syria off-guard. Every travel expert and foreigner in the area says Syria is safe. Nicole took all the proper precautions and there are few people in the world with her kind of travelling experience. The common "cool" wisdom is often that you should "live each day as if it's your last", but the practical reality is, I don't think anyone wants to live as if their friends and family could go missing at any time. Nicole should have been home 5-6 weeks later. Every other girl who travelled there made it home, every other trip Nicole made, Nicole made it home. There was no reason to think this one was going to be different.
On the more "fact-based" front, a friend of the family pointed out that the picture of the Wardan logbook entry doesn't actually have Amin ben Yahia's name in it. Instead it says a Swiss tourist arrived with "Mohamed Khodr Lokmos" and the plate on the car was "Hama 028265". That's the car and driver used by the Riad Hotel, so we were able to get Amin's name from them, as well as his passport information (though from our copy of their guestbook records, he didn't actually stay there). Thus the hotel has his Algerian passport information, but the gatekeeper thought of him as Swiss. I'm just thinking as I type this that maybe we better re-confirm our information with the driver, though after nearly a year, I'm not sure how much he'll remember.
From contacts of contacts, we've learned that Foreign Affairs officials continue to treat Nicole's disappearance as a top priority, and bring it up with the Syrians at every opportunity. The reason this is good news as there's always a level of doubt as to whether people are really "doing everything they can" like is often suggested. I suspect this suspicion is based partly on movies where the government often can't be trusted, and sometimes on miscommunications where our interpretation of "everything they can" doesn't have the unspoken "within diplomatic reason" attached to the end of it. Our experiences with the Canadian officials in Syria have been fantastic, and it's really good to learn from other sources that even in meetings we know nothing about, they bring it up.
On the other hand, the RCMP haven't really been all that helpful in the past few months. They've switched our case officer again, and we can only hope that this officer will actually respond to our emails and requests, and not make us a secondary priority like the last one did (our third or fourth since this began). I understand that there is very little that they can do, and I understand that families get upset and want to find someone to blame and the RCMP make for a convenient target, but nothing has disappointed me more in this than the lack of effectiveness of our own police. I've held off on taking them to task in the past because I didn't want to hinder our relationship, but at this point, I don't think they've added anything to the investigation in months, so it doesn't trouble me like it once did. Every request and inquiry we make is deflected. Any hint of work is sent back to us. It was their very lack of interest in proactively investigating that got me started on this search (thankfully!) and ten months later, they continue to disappoint. People told me this when I started, and I give the same advice to anyone in a similar situation: you'll have to do everything yourself, the police will be of almost no use to you.
I heard from another solo female traveller and she repeated the "I never felt safer" feeling we've heard from so many people. She also used the Internet cafe that Nicole visited and felt it was too busy for anything to happen without people knowing. She says fellow travellers tend to feel the Hotel is involved (guests disappearing for a month and leaving their luggage behind is just too suspicious) and repeated that locals do not want to talk about it.
A contact also relayed his experiences with the various levels of police in Syria and described the differences between them from a foreigner's perspective. He also explained how he had visited many sites more "off-beat" than Nicole, and never had any issues with security forces, which is reassuring. His comments also really helped clarify just how different the Syrian police are from what you expect in Canada (notwithstanding my earlier rant about our own police). I really wonder if any of the past year would have happened if the Syrian police had followed up on the search immediately, and had the skills and training to get more than the obvious information. And when trying to review scenarios and so on, I always have to remember that these aren't police like I'm used to, just like I have to remember the different technology available and so on. It sounds stupid to say it, but it's truly a foreign country, and the deeper I go into it, the more the differences become apparent.
There are dozens more emails to read, but I'm spent. My new job doesn't allow any sick days in the first six months, so conveniently I've just been falling ill on the weekends. I'm sure it contributes to the sour disposition that some noticed in my previous post. February is not the cheeriest of months.